Product Description
Generously sized – 16 inches x 20 inches, ideal for students to see details.
Outline map – perfect for shading & labeling with colored pencils.
Printed on sturdy paper and shipped flat – no folds, creases or curly papers!
Activities included – use with "on-map" activities or your own lesson plan.
This THIRTEEN COLONIES map is essential for colonial American studies.  
Virtual/Distance Learning? Students and teachers can access our easy-to-follow video tutorials for completing map activities.
One of our most popular maps!  
Our map has these unique features:
Outlines the boundaries of the original Thirteen Colonies along the eastern seaboard.

Shows present day state boundaries– students can see how the state lines have changed from colonial times.

Students label important cities, bodies of water and landmarks

Students draw in rivers and mountains and see how geography affected colonies– with help of a fun MAP KEY!

Detailed text describes each of the original colonies and 

historical events of the period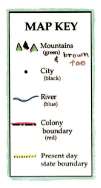 Be sure to include this map when teaching about this period.  Students REMEMBER facts better when they label and see the historical details in the context of a map!