Product Description
Generously sized – 16 inches x 20 inches, ideal for students to see details.
Outline map – perfect for shading & labeling with colored pencils.
Printed on sturdy paper and shipped flat – no folds, creases or curly papers!
Activities included – use with "on-map" activities or your own lesson plan.
Virtual/Distance Learning? Students and teachers can access our easy-to-follow video tutorials for completing map activities.
Our popular NORTH AMERICA map has fun activities that help students learn:
Label  countries, capitals, territories, provinces and cities
Label bodies of water, including oceans, gulfs and bays
Draw and label mountain ranges and rivers
Fun, easy-to-use Map Key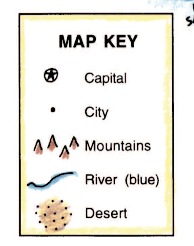 FREE EXTRA!
To go along with this map we offer free digital "NORTH AMERICA Map Challenge"!
Use  with your computer, projector or smartboard!
Adds more in-depth information about geography, animals and culture.
To see the MAP CHALLENGE for NORTH AMERICA, click HERE.