Winter Celebrations Around the World
The darkest part of the year has always been a time for winter celebration.  All across the globe, people get together for rituals and holidays, to share time together.  Often there are special foods and lots of light to brighten the darkness of winter!
Winter Solstice
Each year on December 21st or 22nd, in the northern hemisphere, the Winter Solstice is the day with the shortest period of daylight and the longest night of the year.  This day marks the beginning of winter, and after the solstice, the days get gradually longer. (In the Southern Hemisphere this occurs in June).
This photo from space shows the difference between the months of September and December.
In the northern hemisphere, you can see there is much more light in the middle of the year than at the end.
Ancient people were aware of this shift to longer days after the solstice.
We know that ancient people made bonfires and lit candles in order to brighten the darkest day, a form of winter celebration.
At the site of Stonehenge in southern England,  hundreds of people visit on the winter solstice to see how the setting sun shines through the Altar stone and the Slaughter stone.
Scientists believe that one of the reasons this monument was constructed was to capture this moment in time each year, a winter celebration of light.
Photo: Mark Grant, Creative Commons
The Iranian people celebrate "Yalda night", which is called the "longest and darkest night of the year".
On this solstice holiday, families gather together to eat, drink and read poetry.  Some favorite Iranian treats, like nuts, pomegranates and watermelons, are features of this winter celebration.
Photo: PersianDutchNetwork, Creative Commons
St. Lucia Day
Saint Lucia's Day is a Christian festival of light celebrated on December 13th.  This Scandinavian holiday is held for Saint Lucia, a 3rd-century martyr who helped bring food and light to those in need.
Today she is portrayed by a young girl as lady in a white dress with red sash.  She wears a crown-like wreath of candles on her head.
Often songs are sung in procession.  Cookies and twisted saffron buns (called Lucia cats) are presented by children, both in churches and sometimes at home.
This holiday symbolizes bringing the light of Christianity into the darkness of the world.  It is also has roots in the pagan practices in Scandinavia where lights were lit in the darkest days of the year.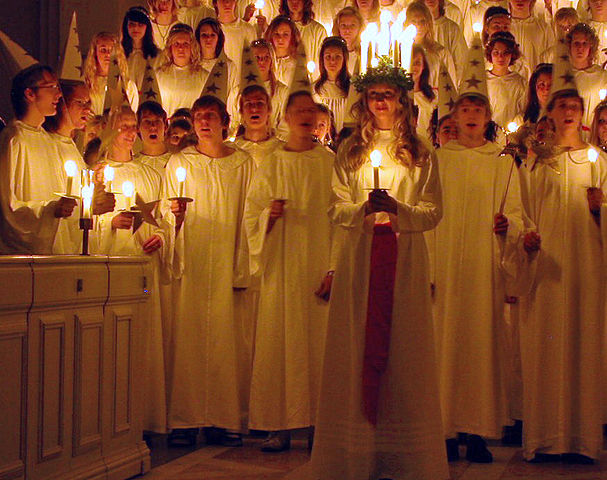 Photo: Claudia Gründer, Creative Commons
Hanukkah
Hanukkah is a Jewish winter celebration held for eight nights and days, occurring sometime from late November to late December.  It is also known as the Festival of Lights and the Feast of Dedication.
This holiday commemorates an ancient miracle when one day's worth of oil burned for eight days in a Jewish temple.
The festival is observed by the daily lighting the of one candle in a group of nine.  This candelabra is called a Hanukkah menorah.  One  candle is used to light the other eight candles.  Each night, one candle is lit the final night of the holiday.
Songs are sung, and children play with dreidels, a kind of whirling top.  Doughnuts and special potato pancakes, called latkes, are traditional  Hanukkah treats.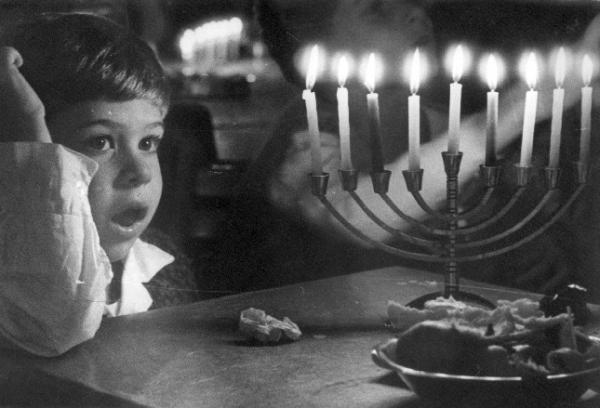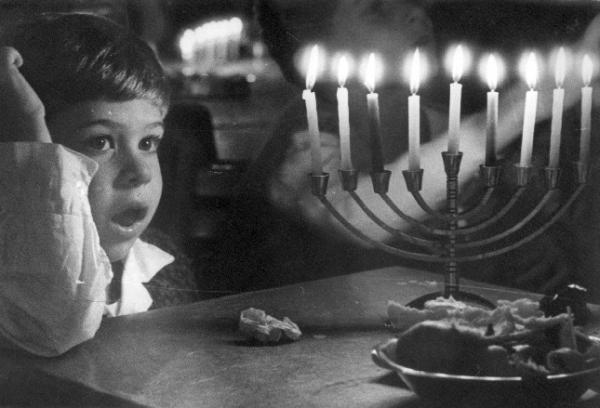 Kwanzaa
Kwanzaa is an African American winter celebration.  It is held over the dates of December 26 through January 1.  This winter celebration was founded in 1966,  and is celebrated by more than 18 million people worldwide.
This holiday celebrates African heritage, family life and unity.  Kwanzaa, means "First Fruits," and is derived from ancient African harvest festivals.
Family and friends exchange gifts and light black, red, and green candles.
These candles symbolize the seven basic values of African American family life: unity, self-determination, working together, responsibility, cooperative economics, purpose, creativity, and faith.
African Americans dress in special clothes made of African-inspired fabrics, and decorate their homes with fruits and vegetables.
Here a woman, festively dressed, lights a candleholder called a kinara.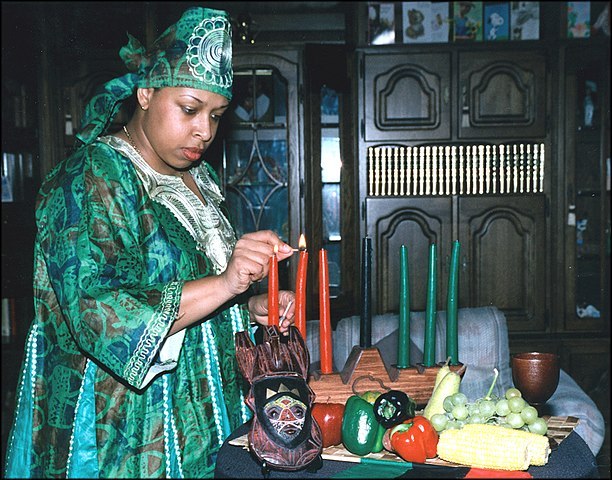 Christmas
Christmas is the holiday that celebrates of the birth of Jesus Christ.  People celebrate the Christian holiday by going to church, sharing and donating gifts, and being with family and friends.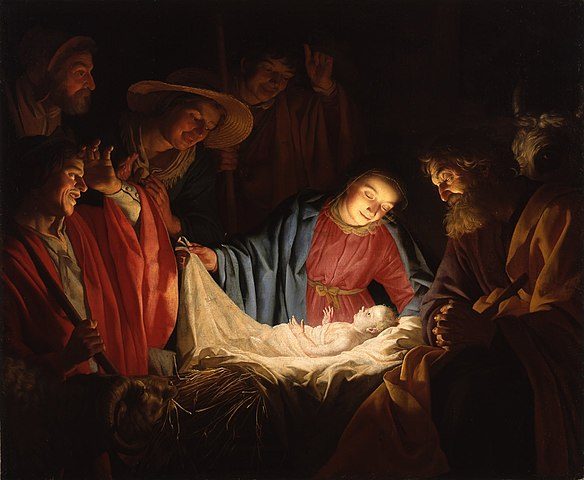 As a popular winter celebration, Christmas also marks the day that Santa brings all the children gifts, coming from the North Pole with his sleigh and reindeer.
Today we can even track Santa's path on our computers and phones with this app!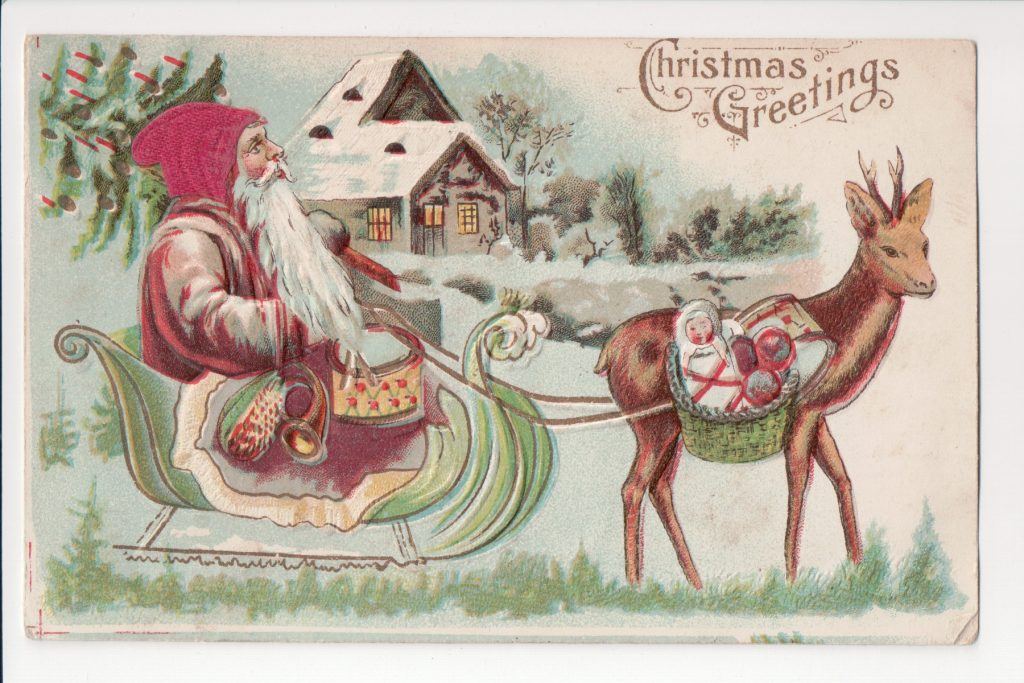 As in other cultures, bright lights and candles are a way to light the holiday.
People decorate with evergreen trees, holly, mistletoe (for kissing  under!), and ornaments.
The Clifton Mill in Clifton, Ohio, is the site of this Christmas display  with over 3 million lights.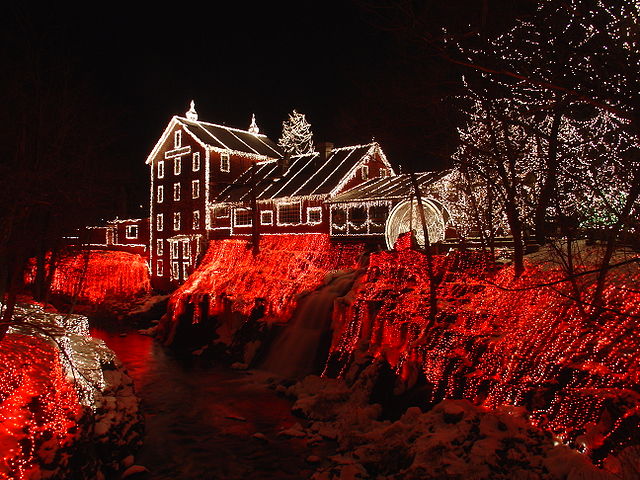 Photographer: Matt Kozlowski
Although not as common as in the past, people practice the ancient art of "caroling",where they go from house to house, singing traditional songs!
Deck the hall with boughs of holly,
Fa, la, la, la, la, la, la, la, la!
'Tis the season to be jolly,
Fa, la, la, la, la, la, la, la, la!
Celebrating the New Year
January 1 is known as New Year's Day.  It is the first day of the year in the Gregorian calendar.
On the eve of this day, fireworks are often set off at midnight as a celebration.
People see the new year as a movement into new ways, and often make resolutions to change their lives.
The brightness and the feeling of a new beginning make this a favorite winter celebration throughout the world.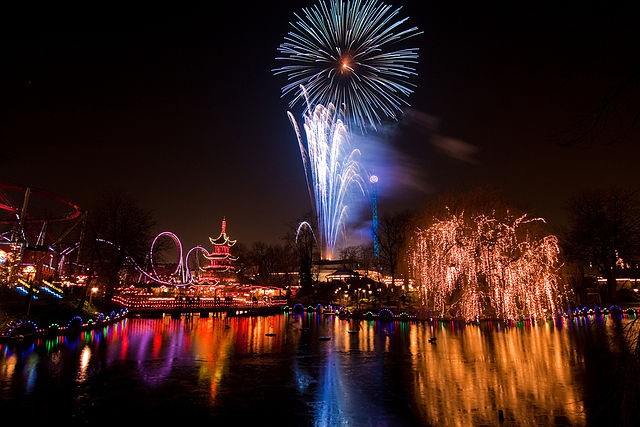 Photo of Fireworks over Copenhagen by Stig Nygaard, Creative Commons
Three Kings
Three Kings Day comes at the end of the traditional Twelve Days of Christmas.  In Christian history, the three wise men, also known as the three magi, came to see the baby Jesus and brought him gifts.  This holiday celebrates that event.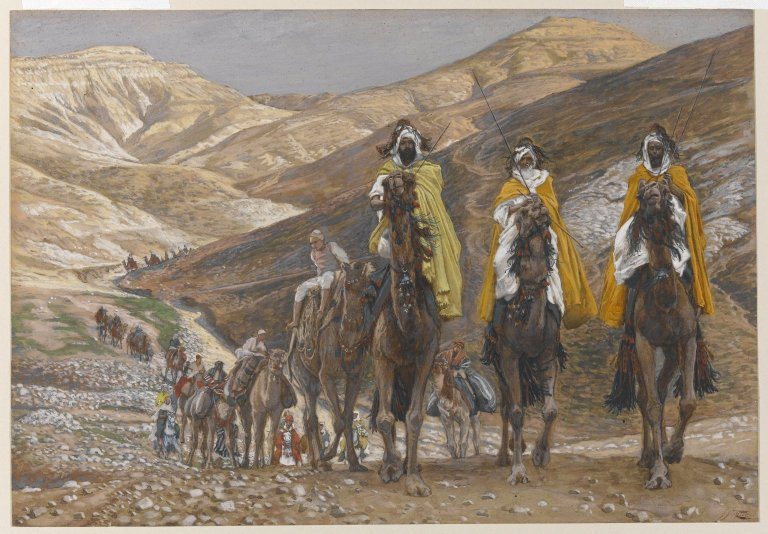 The delicious flakey "kings' cake", or "galette des rois" is served in France on this day, is baked with a single tiny trinket inside of it.  When a person receives the piece of cake with this prize, they celebrate by wearing a paper crown!
In some countries, like Spain, children receive their holiday gifts on this day.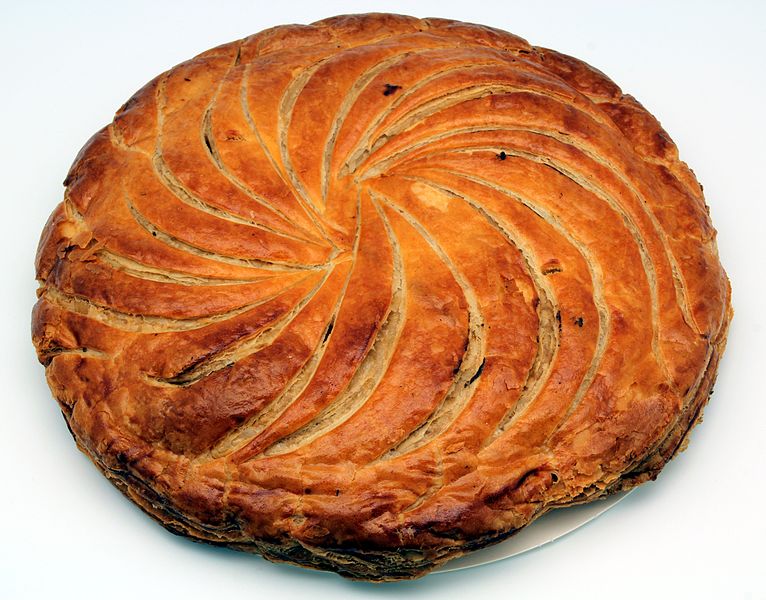 Gallette Des Rois, photo by Lionel Allorge, Creative Commons
Chinese New Year
The Chinese New Year is the most important of the Chinese holidays and is celebrated the world over, not just in Asia.  It can fall  on a different day each year, sometime between January 21 and February 20.
Photo: Calvin Teo Creative Commons
This ancient festival began as a way to honor deities as well as respect ancestors.  Today families gather to eat dinner together to eat comforting and traditional food like dumplings.
The Chinese traditionally believe that to clean their house is a way to sweep away bad fortune– they hope to have good luck in the new year!
Gold and red are the colors of the day, and  represent the qualities of good fortune, happiness, wealth, and longevity.   People light firecrackers and families give money as gifts in red paper envelopes.
HAPPY HOLIDAYS from us at Map of the Month/ Maps for the Classroom.