Train Tracks to Rail Trail!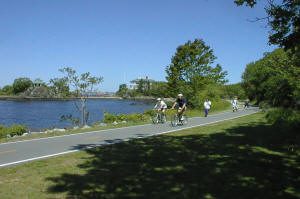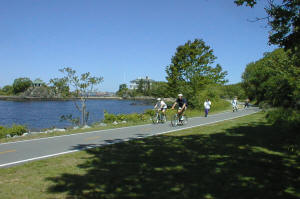 Everyone at Maps for the Classroom/ Map of the Month loves to ride bikes.  We are very lucky to have a wonderful bike path here in Rhode Island.  The East Bay Bike Path extends from Providence (where our office is!) at India Point Park, and extends about 15 miles to Bristol, a lovely town on Narragansett Bay, which is rich in maritime history.  (Bristol has the oldest 4th of July Parade in America– but that is a topic for another post!)   This path has room for walkers, joggers and bikers.
For the majority of its length, the East Bay Bike Path follows what used to be the tracks of a once active railroad.  Riding along beautiful Narragansett Bay on an easy-going path is a real treat.   Below, you can see that the path passes a beautiful old train depot, a landmark from the past history of the state, now a commercial building.  Other stretches offer rural scents and green vistas.
Lots of Rhode Islanders have lots of fun on this path, and many other people enjoy dedicated bike paths all across America, some made from old rail trails, others are just courses built for recreation.

Did you know that the first dedicated bike path connected the California cities of Los Angeles and Sacramento, and was built in 1900?  You and your students can read more about this early trail  in our BASIC MAP SKILLS MAP CHALLENGE!  And read about other things there too that will be of interest to your students– pictographs and lighthouses too!
Photo credits: courtesy of State of Rhode Island Parks and Recreation (top), Jason Newton (second two) and Reynaldo Orio (opening blog post and lower photo).