Studying with your state map!


Our large 16″ X 20″ state maps have engaging activities and a Map Key!  Desktop size, easy to follow, our state maps will take your students logically through everything they need to know about where they live!  The maps start out in plain black and white,  but they have beautiful colored effects when they are done!
Students learn physical and political geography of their state.  They'll identify and label the important features.  They will label cities and towns and bodies of water.  Drawing in in features like mountains, wetlands and rivers allow a student to have fun while learning important details.
Extras!  Students learn who are their neighboring states are too!  What is "infrastructure"?  They have fun drawing in the major highways where they travel with their parents!
Helpful and Fun Map Key
All the symbols for each state map are grouped together in a MAP KEY for reference.  The MAP KEY for each state map helps students learn symbols and place them on the map.
Students learn that symbols are small pictures that stand for different features on a map.   A symbol is often drawn to look like what it represents. For example, a triangular shape is often used to denote a mountain. A desert is often shown by a group of dots that might look a little bit like sand.   A forest could have little shapes that look like trees. A railroad can be shown as a line with bars drawn across it, like a train's track.
Learning about these symbols prepares students to read symbols on other maps they will encounter.  Here is an example of the kind of Map Key students will use with one of our state maps.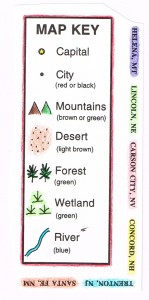 A state map lends pride: the knowledge of where you live
Students take pride in the finished map.  Inspire state pride and promote retention of facts in a fun hands-on way.  Many teachers tell us that students display the maps at home after they are complete: the whole family will learn as well!
Does one grade in your school have a State-Study as part of  the school year?   A kit of all 50 of our state maps offers a hands on way to familiarize your students with states other than their own!