MAY 2017 "Monthly Customer Bonus"– Top Ten "Step-by-Step Mapping Files"!
Order in MAY and get our May Customer Premium: order 500 maps or more and receive FREE CD with our TOP TEN "Step by Step MAPPING FILES", all on one disk!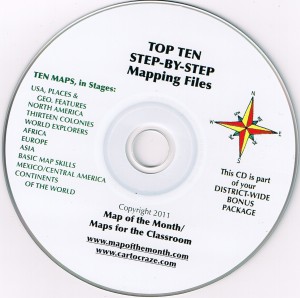 You will be able to display our most popular maps' activities in full-color and in "super-size" with a computer, projector, Smart Board or whiteboard. Students can see the map they are working on, in progressive stages of completion.  These files take your students through the activities, one step at a time, until the map is complete.  For you, as teacher, they act as a COMPLETE KEY to our maps, and show the map, from blank to finished at the end.
Digital files for these 10 maps–
USA, Places and Geographic Features
A great teaching tool! Step-by-Step Mapping Files act as a visual key for use with your projector or whiteboard.