CartoCraze! Expanded Map Workshops
CartoCraze! Expanded Map Workshops is a premium membership product which gives you access to more than 40 members-only workshop units focusing on different aspects of our amazing planet Earth. Geared for grades 3-8, these digital workshops seamlessly integrate with our hands-on paper maps and are conveniently organized into the following four geographic areas —

Use CartoCraze! premium content with any of our large activity maps, for in-depth, fun and engaging lessons your students will love.
Member Login
Forgot your username/password? Please contact us for assistance.

Not a CartoCraze! member yet?
Join Today
Free Trial Access
Want to test-drive a CartoCraze! expanded map workshop? For a limited time, we are giving you Free Access to view and download two of our map workshops:

What's Included in Each CartoCraze! Expanded Map Workshop
Loads of geography content and our own hand-drawn map of the area being studied.
Comparative maps of different kinds — some aerial, some historic, some scientific — that help place the unit in the context of the larger world. Let your students learn about geography through the lens of a wide variety of mapping presentations!
Mathematical, scientific or historical questions dealing with a particular aspect of the map.
Engaging hand-drawn illustrations of an animal or endangered species uniquely tied to the geographic area, along with interesting animal facts.
Printables of smaller maps and wildlife illustrations.
Vocabulary and spelling words for each unit.
A compelling writing activity related to each unit—sometimes calling for a descriptive essay, a poem, and even fictional stories! Writing exercises connect to engaging cultural issues, scientific matters, historical themes, and art.
Recommended reading lists that tie in with the area being studied.
CartoCraze! Complete Listing
If you love our maps, you will want the added advantage of going deeper and in detail into unique geographic areas. By exploring our maps in-depth, using the various units for islands, deserts, mountain and rivers, your students will use their map skills as well as get a chance to read and research, explore scientific concepts, and exercise their math skills.  They will also gain a better sense of the world at large, while using their cross-curricular skills. Below is a complete listing of teaching units for each geographic area covered.

Rivers of the World
Explore rivers of the world in great detail. Contains 9 expanded map workshops with over 140 activities.
Mountain Ranges of Earth
Explore Earth's mountain regions in great detail. Contains 10 expanded map workshops with over 130 activities.

Deserts Across the Continents
Explore deserts across the continents. Contains 8 expanded map workshops with 90 activities.

Islands in the Oceans
Explore islands in the ocean. Contains 16 expanded map workshops with over 170 activities.

Map Challenges
Free map workshops for the 2015-16 school year. Map Challenges are added every two months and are designed for use with a specific activity map.

CartoCraze! Expanded Map Workshop Membership
Only $99
Pay once, use forever. Pay a one-time member fee and your entire school staff will have unlimited access* to premium member content.
Access over 40 map workshops. Fully-researched and loaded with over 500 interesting activities. Plus, all future content.
Map integration helper. Includes a complete listing of the CartoCraze! units and which desktop activity maps they integrate with.
Convenient PDF format. View online or download to your local computer. Includes printable activity worksheets.
Works hand-in-hand with our maps. Built as supplemental content for our over 80 desktop activity maps.
Use in group or individual settings. Project the workshop for classroom discussions or view individually on laptop or tablet.
CartoCraze! Membership Terms of Use
The CartoCraze! membership gives you forever access for your entire school (one physical address location) to our premium members-only content.
YOU CAN:
Share membership access with all teachers/faculty at your school so that all teachers and classrooms can access the CartoCraze! premium member content.
Share and distribute printable member content with all teachers/faculty at your school.
YOU CANNOT:
Reproduce or reuse in any form, exact or alternate forms, without the permission of the publisher, Map of the Month/Maps for the Classroom. All material is copyright protected.
Share, redistibute or post members-only content with anyone who is not included in your membership. This will result in the termination of the membership.
How to Use CartoCraze! in Your Classroom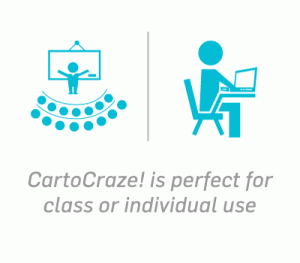 A CartoCraze! membership is ideal for both classroom and individual learning. The learning units are in convenient PDF format and organized by geographic topic area. Each unit can be viewed using a whiteboard, smartboard or projector for classroom presentations or on individual computers or tablets for single student use.
Each CartoCraze! unit seamlessly integrates with a number of our large format activity maps, providing loads of additional content that expands beyond geography and social studies, to encourage and address literacy, reading, writing, history, and art. The CartoCraze! visuals, printables and extra content will enhance the use of our activity maps — allowing your students to better connect with their world.
For example, if you are using our USA, Places and Geographic Features map, you might want to expand your lesson by using the Mississippi River, Appalachian Mountains, Sonoran Desert or Rocky Mountains units available in the CartoCraze! membership. As a member, you can view a complete list of which activity maps integrate with each CartoCraze! unit.
CartoCraze! geography content isn't just for use with our large activity maps. We're sure you will find a CartoCraze! membership to be a valuable go-to resource for you and your students throughout the year.